FOXTA v4 is a software suite dedicated to foundation design and covers a wide range of applications:
conventional calculation of shallow and deep foundations according to the application standards of Eucocode 7 (NF P 94 261 and NF P 262)
the modelling of one or more interacting rafts.
the calculation of reinforced foundations with rigid inclusions under the raft or slab
the calculation of a group of interacting piles or barrettes
the treatment of negative friction and transversal earth pressure problems under static or seismic loading
calculation of mixed foundations and semi-deep foundations
Important: if you have a version older than or equal to Foxta v4.1.13, you should upgrade all user workstations manually on an exceptional occasion. To read more
Following the recent discovery of a critical flaw in the Java log4j library, we wanted to reassure all our Foxta users that the software is not affected by the flaw. No update is therefore necessary.
New ! New v4.1 update with new features in TASPIE+ and TASPLAQ modules
TASPIE+

Activation of a third "calculation mode" to deal with the case of a finite number of piles or inclusions (taking into account edge effects according to a generalized MV3 model – ASIRI 2012)
Activation of an "assisted input" mode to generate t-z/q-z laws from PMT, CPT or G shear modulus tests
Possibility to explicitly differentiate positive and negative boundary friction (with automatic capping at ktand x sigv')
Possibility to take into account the influence of a more deformable deep layer
Free soil settlement can now be defined point by point independently of the layers
Direct access to the key results required for the design of a single pile, a group of piles and rigid-inclusion reinforced piles
TASPLAQ

Direct access to angular distortion (local differential settlement) in any direction of the plate
To get a quote for a new Foxta v4 licence or an upgrade from Foxta v3, contact us via the quote request form.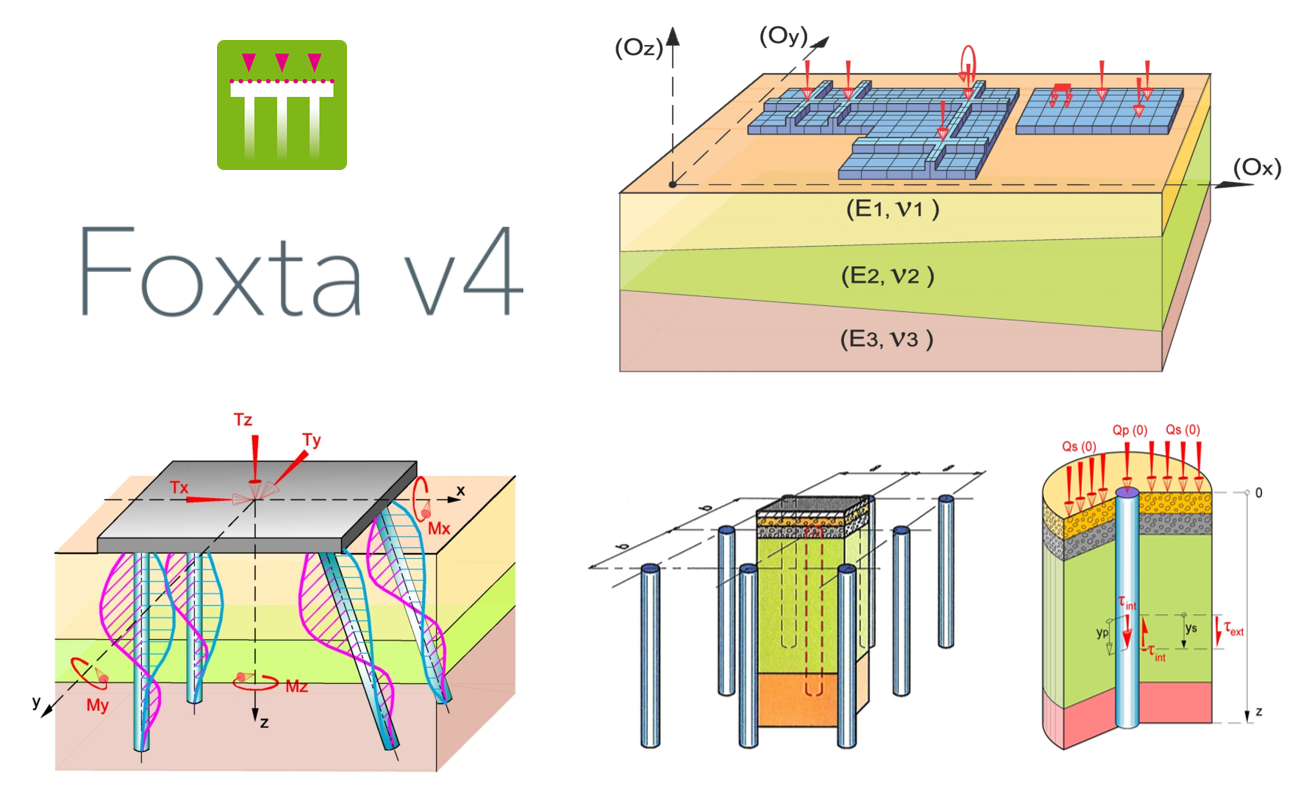 8 INTERCONNECTED CALCULATION MODULES