Slake: your new software for the analysis of the liquefaction risk
---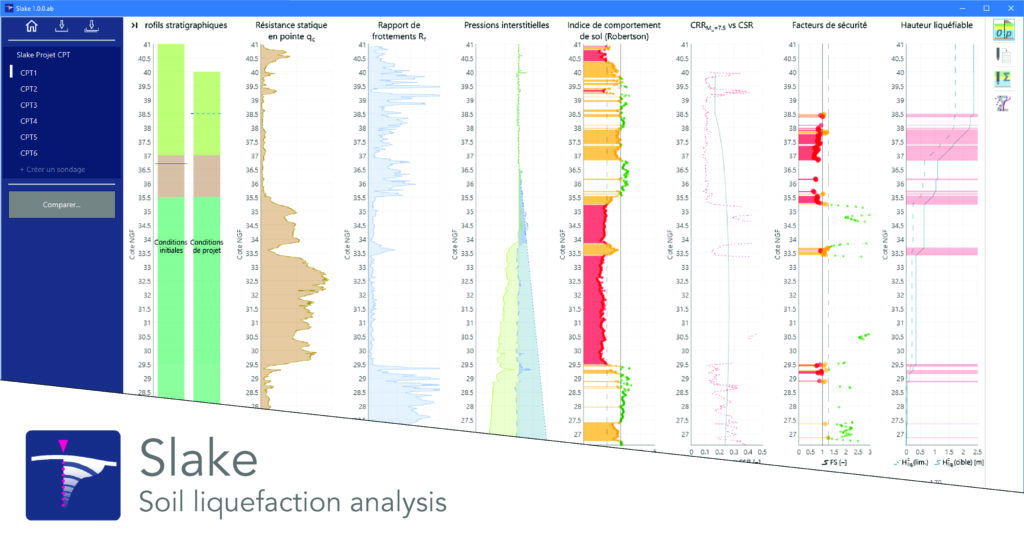 (La Lettre Terrasol – June 2019)
Slake is the latest TERRASOL software: it is dedicated to the quantitative analysis of the liquefaction hazard of soils under seismic loading by applying the direct semi-empirical method known as "NCEER" (Youd and Idriss, 2001). This user-friendly tool can also be used to carry out sensitivity analyses on all critical parameters by managing "scenarios" that are associated with the analysis of a borehole or a group of boreholes.
In addition, an assessment of seismic-induced settlements is presented using the semi-empirical Zhang and Brachman method (2002). This indicator, which will soon be extended to further options stemming from future developments, enables a spatial analysis and paves the way to multicriteria analyses that do not limit liquefaction studies to just safety factors.
The beta-test phase is coming to an end and Slake will be on the market this summer. Do not hesitate to contact us for further information!
M. Hocdé and M. Huerta
Towards new structural and geotechnical Eurocodes
---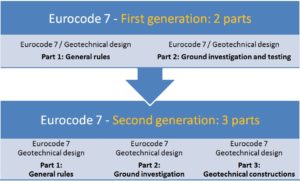 (La Lettre Terrasol – June 2019)
TERRASOL has always been greatly involved in research and development activities, as well as in standardisation actions. As part of the implementation of the second generation of Eurocodes,  TERRASOL is currently participating in the works of the latest project team in charge of the final version of the three new parts of Eurocode 7, which are to be finalized by April 2021. The vote of this new Eurocode 7 (and of the other Eurocodes) should take place in 2022, and the new version should be applicable in 2024.
The new Eurocode 7 will deal with additional topics: simplification of safety formats, management of studies reliability, effects of water, dynamic and cyclic loading, rock mechanics, etc. The aim is to provide a European standard for geotechnical design that is easily applicable in Europe, but also and most importantly beyond Europe, by promoting the different aspects of European engineering. The idea is to take advantage of the main European know-how to optimize geotechnical structures and make European engineering truly competitive.
In France, it will then be necessary to update the various national application standards of Eurocode 7, and where appropriate, propose new standards detailing the complementary topics addressed.
S. Burlon